Hi, I'm Megan!
I am a stay-at-home mom of a delightful little girl who, much to my dismay, will not model my projects for me! And although this breaks my heart, I have to credit her for giving me the inspiration and initiative to start my blog. However, she isn't the reason that I learned to crochet in the first place.
I learned to crochet back in high school when my friend, Paula, came home from camp (having learned there herself) and showed me how. I remember going to a craft store and picking out some blue yarn, and making my very first and very shoddy set of mittens and a scarf. Fortunately, through time, practice and many blogs and YouTube videos, my skills have improved drastically from those first, less-than-perfect pieces. Throughout my high school and college years I picked up crocheting as a hobby periodically, usually in the winter months, and stuck mostly to scarves. Occasionally I would make mittens or hats for myself, but that was about the size of my crochet repertoire.
Now skip ahead several years to the final months of my pregnancy. I was in the stage where sleep completely eluded me due to the sheer discomfort of laying down. Sometime in those deliriously sleep deprived hours, I stumbled across Sarah Zimmerman's blog (www.repeatcrafterme.com) and a pattern for an adorable crocheted snowman cocoon for a newborn girl. I decided to make it for my December due baby-along with several other hats-in eager anticipation of her arrival.
Despite her sweet and calm appearance here, she soon let me know how she really felt about wearing hats...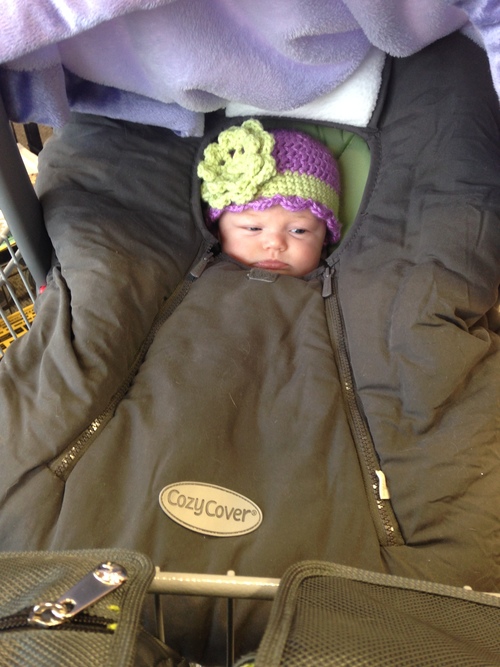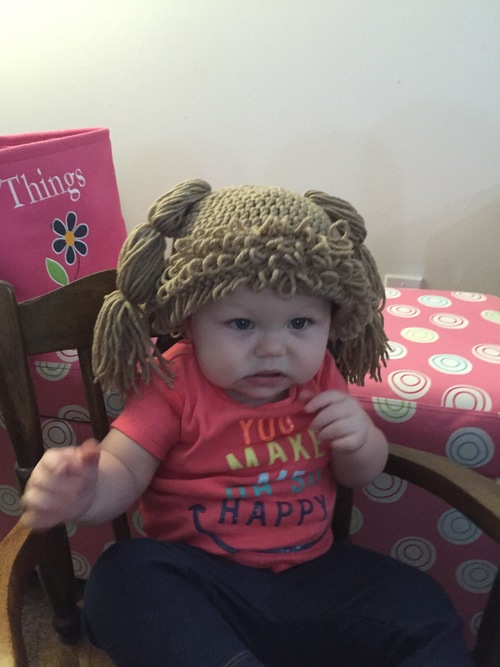 Nevertheless, making these hats for my daughter reminded me of how much I love to crochet, and it also opened up a whole new world of crochet design and projects to me!