We've reached that transitional time of year where the weather just can't make up its mind! Some days you feel like spring is in full bloom and others you feel like winter just won't quit! That means its a great time to make yourself some light weight and transitional scarves and shawls. I have gathered 15 free crochet patterns for you to pick from. No matter your style, you are sure to find 1 or 10 that you'll want for your spring wardrobe :)
Whether you prefer lace, boho or modern scarves and shawls, this roundup includes patterns for all tastes! Many of them are one skein projects or great scrap busters, and use every type of yarn from thread to worsted weight yarn. Which one is your favorite? Have you even tried any of these patterns? Drop me a comment below and let me know what you think!
1. Connected Bows Shawl by Wilmade - find your favorite fingering weight yarn! This shawl pattern is beautifully light weight for spring and looks pretty beginner-friendly!
2. The V-Scarf by Naztazia - You need less that 350 yards of sport weight yarn to make this delicate and beautiful V-scarf! This pattern comes with a video tutorial as well.
7. Ric Rac Wrap by Left in Knots - This versatile wrap can be worn in so many different ways! The pattern is beginner friendly and uses basic stitches and includes a video tutorial to get you started.
8. Garden Lace Shawl by Moogly - This shawl plays with both colors and textures. It is also a great scrap buster project for your Category 3 yarn!
11. Strawberry Patch Convertible Scarf by Left in Knots - This pattern uses just one skein of Caron Cakes yarn (or your favorite worsted weight yarn) and can double as a scarf or a wrap. A perfect transitional piece to bring you from winter to spring!
12. One Skein Boho Shawl by Mama in a Stitch - Shawl in a Ball is a cotton blend yarn from Lion Brand used to make this shawl, and this pattern uses only one skein of it! The fringe is the perfect, modern touch.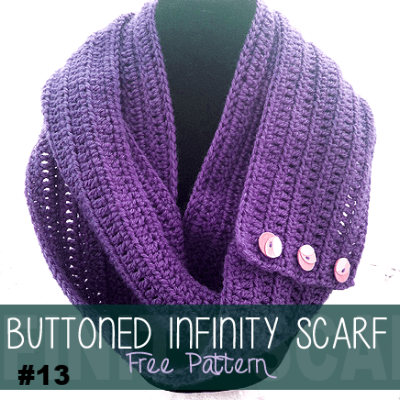 13. Buttoned Infinity Scarf by Little Monkeys Crochet - This pattern is perfect for any crochet skill level! It is also a great stash buster, using only 340 yards of worsted weight yarn. The buttons add the perfect embellishment to make this scarf something special.
14. Eternity Knot Scarf by Left in Knots - Combine color and texture with this unique, light-weight scarf. The combination of two different stitches adds visual interest, and this pattern is also a great stash buster!
15. Fire and Ice Shawl by Underground Crafter - This is another beautiful shawl pattern featuring Lion Brand Shawl in a Ball. The extra glimmer comes from using Shawl in a Ball Metallic yarn :)
This post contains affiliate links. I receive a small commission for any purchases made through these links at no additional charge to you.